How to pay for your purchase
Security
We do not record any credit card details on this site. We record your name, address and email address, but if you wish this deleted after your purchase - please email us and we will completely delete all your details. We NEVER give anyone any of your personal details.
Payment Methods for Australian customers
We try to be flexible at The Bookshelf of Oz, so there are several ways you can pay for your purchase.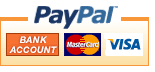 Please pay within 5 days of purchase, or contact me if this is a problem. If payment is not received within 5 days, items will be returned to the website's inventory and you may risk the item being sold out, out of stock or unavailable.
Orders are packed and posted after payment is received, usually within 24 hours or faster.
Sorry but we do not accept purchase orders - payment is required prior to dispatch of items.
Paying by Credit Card ( Mastercard or Visa ) via Paypal
Paypal is one of the worlds leading payment gateways. We have taken thousands of payments via Paypal.
Some of the advantages of Paypal
* we don't see your credit card details - all credit card processing through Paypal is done through Paypal's site - we never see your credit card details and they are not stored on our site
* you don't need to join Paypal to use your credit card - you can make a credit card payment for purchases like any other online credit card gateway - you do not need to join Paypal
* if you wish - you don't even need to use your credit card - you can use your Bank Account. You can set up a Paypal account and transfer money from your Bank Account to your Paypal account. You never need to use a credit card on-line. Please be aware that it takes 4 - 7 days for the money to be transferred from your bank account to our Paypal account so there will be a delay in sending your purchase if you use this payment method (it's called an eCheque).
* There are NO CHARGES TO YOU when you use Paypal - all charges are paid by us.
Visit http://www.paypal.com.au
Please note: I cannot take your credit card details over the phone or via email. Paypal does not accept American Express.
Bank Deposit
You can pay by transferring the payment amount from your Bank Account to mine. I bank with the Commonwealth Bank, and you can either transfer money from your bank account, or do an over-the-counter deposit at any CBA branch around Australia.
When you make a deposit just add the order number (it starts with BO) in your bank deposit reference. If you deposit directly to a bank branch ask the teller to give the order number as a reference - if the teller won't do that, just give any reference (postcode, any sequence of numbers you will remember ..) and email us with the reference so we can match it up with your purchase quickly and post to you ASAP.
Money Order/Cheque
*You can send us a money order or via the post (Australia Post money orders only for purchases in Australia only)
*Money Orders need to be made out to Judy Mather
*If you send a Cheque we post your item when the Cheque has cleared. Cheques need to be made out to Judy Mather
*Cheques can only be used for Australian purchases being posted to Australian addresses.
International customers
All prices on my website are in Australian Dollars (AUD). If you wish to get an approximate conversion to your own currency, visit http://www.xe.com. Please pay by Paypal only. I cannot accept foreign cheques and have an Australian bank account. Bank deposit, cheque and money order options are only available for Australian customers.
Or if its all too hard!
If you are having difficulty placing an order on our website - email us at judyoz@gmail.com. You can just email us with your order and we will arrange it with you, including payment and postage details, via email.