CARTER'S GUIDES to Australian Antiques and Collectables
Since 1985 Carter's annual Price Guides to Antiques in Australasia have been keeping buyers, collectors and sellers up-to-date on current trends and prices of antiques, collectables, retro and vintage items in Australia and New Zealand. The books themselves are highly collectable and keenly sought-after, with buyers and collectors adding new and missing editions to complete their set of (currently) 25 editions.


My own collection of Carter's Guides



When the Carter family began publishing the Price Guide in 1985 they were breaking new ground. They had nothing to model their guide on, as there had not been anything like this guide published in Australia prior to this. No books or guides that related to all aspects of antiques were available in Australia, and any that did deal with some category of antique or collectable were usually out of date or biased towards the UK market. How exciting it must have been for buyers and sellers alike when the first Carters Price Guide was published! The first edition was published on matt paper, with black and white photos. Prospective buyers of a Carters 1985 Price Guide need to be aware that an unauthorised print run of this edition was made in 2004. The reprinted copies are on glossy paper and the illustrations and text are darker and not crisp like the original. Always ask to see a photo (or the real thing!) of pages from the first edition prior to buying to make sure it's not a pirate copy.

Some editions of the Price Guide are very rare and thus highly sought-after. The 1985 and 1987 guides are the rarest, and of more recent editions, the 2002 guide is not freely available. Even the publishers have none in stock! Expect to pay between AUD 250 - 400+ for a 1985 guide in good/very good condition, and up to AUD 300 or more for a 1987 guide. A pretty good capital gain on the original RRP of AUD 29.95! The 2002 guide doesn't command such lofty prices .... yet! Recent sales on Ebay have been between AUD 70 - 95.

An interesting but very sad fact is that a few years ago the Carters lost their entire stock and even their own personal collection of guides in an office fire. The one set in pristine condition that they own cost AUD 5000 at auction. Taking into account the smaller print runs of the earlier editions, and the loss of stock in the office fire, it's no wonder the earlier editions fetch such amazing prices.

Each year, the guide is produced 'from scratch'. No photo from a previous edition is ever reused. Each edition is totally original. This year the deadline for submission of photos and information is mid-May, which gives an indication of the time and work involved in putting a guide together.

In 2005 John Furphy Pty Ltd took over management and in 2006 the Carter's Guide was joined by a sister publication, Carter's Everything Vintage. This new publication is the only Australian price guide dedicated to post 1950's items. It's my personal favourite of all the Carter's guides - heaps of things I remember from my childhood, and even a few that I still use today! Take a look in the 2007 Carter's Everything Vintage Guide for 3 beautiful red, gold and mint green Ericofon phones from our own collection. We have other Retro Rotary Dial telephones and a few books in the 2008 and 2009 Guides.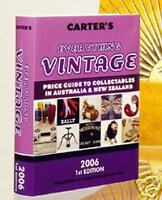 I'm sure that this new publication will become as popular and collectable in years to come as the Carter's Price Guides are now. So get in now and buy your copy of Carter's Everything Vintage 1st Edition 2006 before their value skyrockets as early editions of the Price Guides have done.

The Carter's Guide to Antiques now concentrates on items from before1950 and right back to the dawn of time, so there is no overlap between the publications. The format is similar across the 2 guides, so people familiar with the Antiques Guides will find the Everything Vintage Guides very easy to use. Both guides are beautifully presented, with full-colour photos, well set-out sections and easy access to information and contributor contact details.